Malá Bosorka
Czechoslovakian Vlcak
This website is currently being updated!
B-litter expected end of October 2023 – Pregnancy confirmed
---
Welcome to the website of "Malá Bosorka", my VDH / FCI recognized kennel of Czechoslovakian Vlcaks!
Important for me in breeding Czechoslovakian Vlcaks (CSV) are above all physical health and a balanced and cooperative character. This is what I focus on when selecting breeding dogs. The puppies grow up in the house, in the middle of the pack, with family and many visitors. I put special emphasis on early encouragement and socialisation of the puppies and a close, continued contact with the new owners/families. So I can follow the development of "my puppies" and support the owners/families in case of problems.
On this page you will find information about my breeding plans, my dogs and about litters born at my kennel. No matter if you just want to inform yourself about the breed in general or if you already have many years of experience with these great dogs. You are welcome to browse my site.
And now, have fun !
If you want to know more about me, click here.
---
The Czechoslovakian Vlcak
The Czechoslovakian Vlcak (CSV) is a relatively young breed and was created in the 1950s in Czechoslovakia as a military project from the crossing of German Shepherds and Carpathian Wolves. They were first used by the military as border guard dogs, but specimens quickly passed into private hands. The Czechoslovakian Vlcak developed into an intelligent, athletic and loyal companion that is visually very similar to the wolf. He needs a consistent education, leadership and good socialisation to be able to develop into a welcome companion and sports partner.
---
My dogs
My small pack currently consists of three CSV`s. My two females, Liza (12.5 years old) and Malou (6.5 years old) I have brought each with eight weeks home with me. Malou gave birth to the A-litter Malá Bosorka in 2021 and a male from this litter, Artaios, now completes our team. Artaios has already passed all the necessary examinations and tests and is approved for breeding as a stud dog without any restrictions.
You can find more info on the individual pages of my dogs.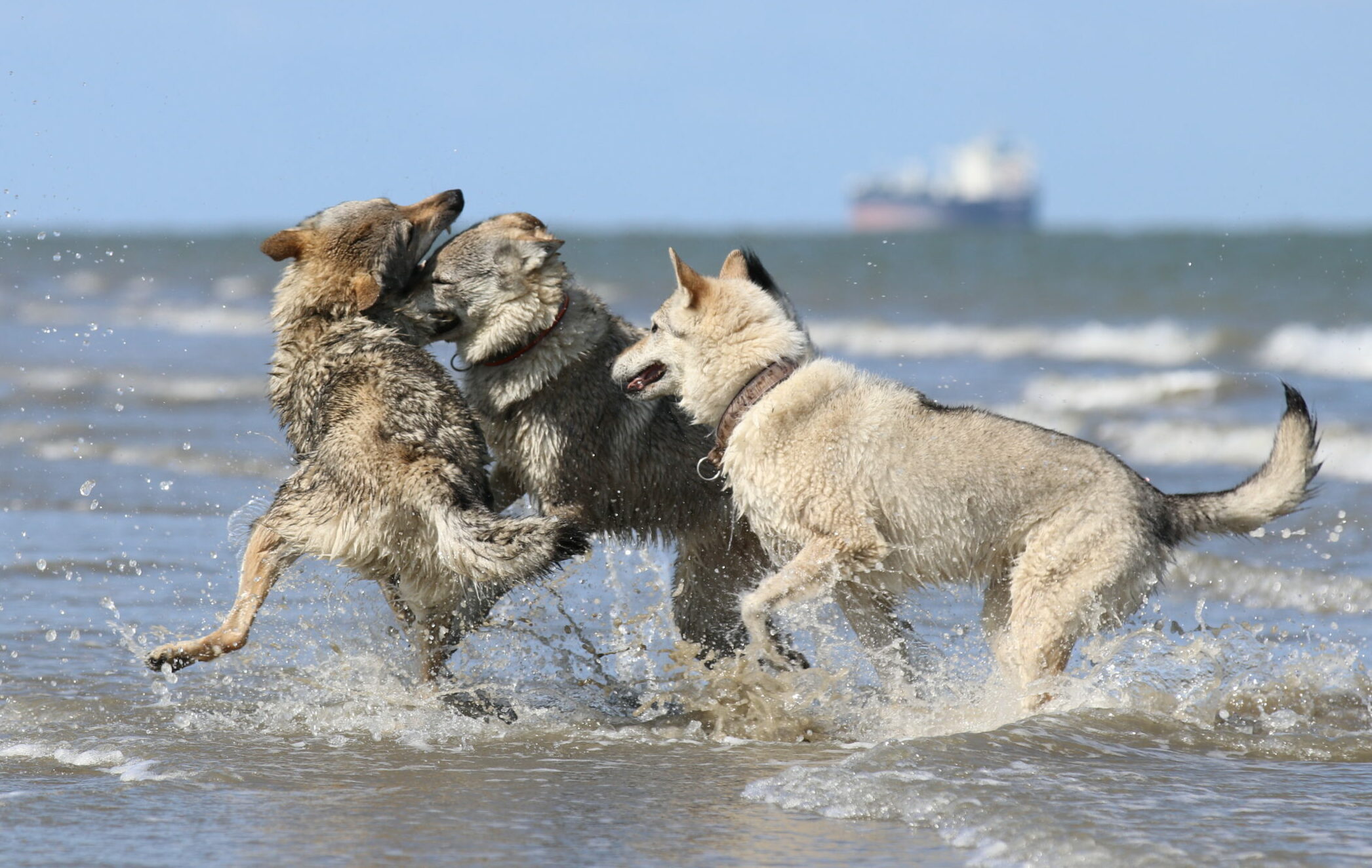 ---
Litters
Malá Bosorka stands for well thought out and planned breeding with high standards and requirements for the breeding dogs.
In order to get my own picture of the potential breeding dogs, I travel to special breeding shows, meetings and sporting events, especially in the countries of origin. Decisive for me is the quality of the dogs, not the quickest way or the number of collected titles.
The B-litter is planned for 2023.
---
Also take a look at my very interesting training pages with Czechoslovakian Vlcaks.
---
"Life with a Czechoslovakian Vlcak is never boring."
Tanja Wächter