Artaios Malá Bosorka alias Taios is the cock of the walk with me in the pack. He came back to me when he was 9 months old and I can't imagine life without him. He has developed into a beautiful, well-balanced and relatively easy to handle male dog, who is easy to motivate and also offers himself when working on the dog field and in sports.
Now at just under 2 years old, puberty is knocking and we are now working on the building sites/challenges of everyday life.
We are training him for RallyObedience and in pulling dog sports, where he already shows very good abilities. In April 2023 he passed the Slovakian 40 km endurance test SVP1 in an excellent time and we plan to train for the next level, the 70 km, in the autumn.
Despite his young age, Taios has already achieved one or two successes and high placements at international shows and special breed shows with more than 100 entries.
He has already passed his unrestricted breeding approval with flying colours in March 2023 after showing perfect results in the required health examinations.
He is medium sized, with excellent movement, excellent coat, short tail and a typical broad head and small ears.
As a stud dog Taios is available for suitable bitches for breeding.
---
GENERAL INFORMATION
| | |
| --- | --- |
| Naam van de hond: | Artaios Malá Bosorka |
| Breed: | Czechoslovakian Vlcak |
| Date of birth: | 2021.07.26 |
| Calling name: | Taios |
| Gender: | male |
| Breeder: | Malá Bosorka (Wächter, Tanja) |
| Owner: | Malá Bosorka (Wächter, Tanja) |
| Coat colour: | wolf coloured |
| Length of the coat: | Short |
| Pedigree book number: | VDH 21/116 01108 |
| Chip: | 276098800261717 |
---
In the following tables you will find the information about Taios's health results, bonitation, show titles and passed tests and performance class.
Health
| | |
| --- | --- |
| Health results: | |
| HD: | A1 |
| ED: | 0 |
| DM: | N/N |
| DW: | N/N |
You can find more health information and explanations of the abbreviations here.
Bonitation/ Titel
| | |
| --- | --- |
| Youthbonitation: | |
| | very promising |
You can find more information about the training and the abbreviations here.
Exams/Training
| | |
| --- | --- |
| Endurance test: | |
| SVP I (40km) | Excellent |
| BH-VT | |
| RallyObedience: | |
| | Beginner |
You can find more information about the training and the abbreviations here.
---
Stud dog
Taios received his breeding license from the German Kennel Club (VDH) at the age of 20 months.
He has an interesting pedigree and combines a pleasant and easy to handle character with an excellent appearance.
Even at this young age he has a strikingly broad skull and I am very curious to see how he will develop over the next few years and of course what qualities he will pass on to his offspring.
If you have any further questions about Taios, please do not hesitate to contact me.
---
Here you can find information about Artaios' littermates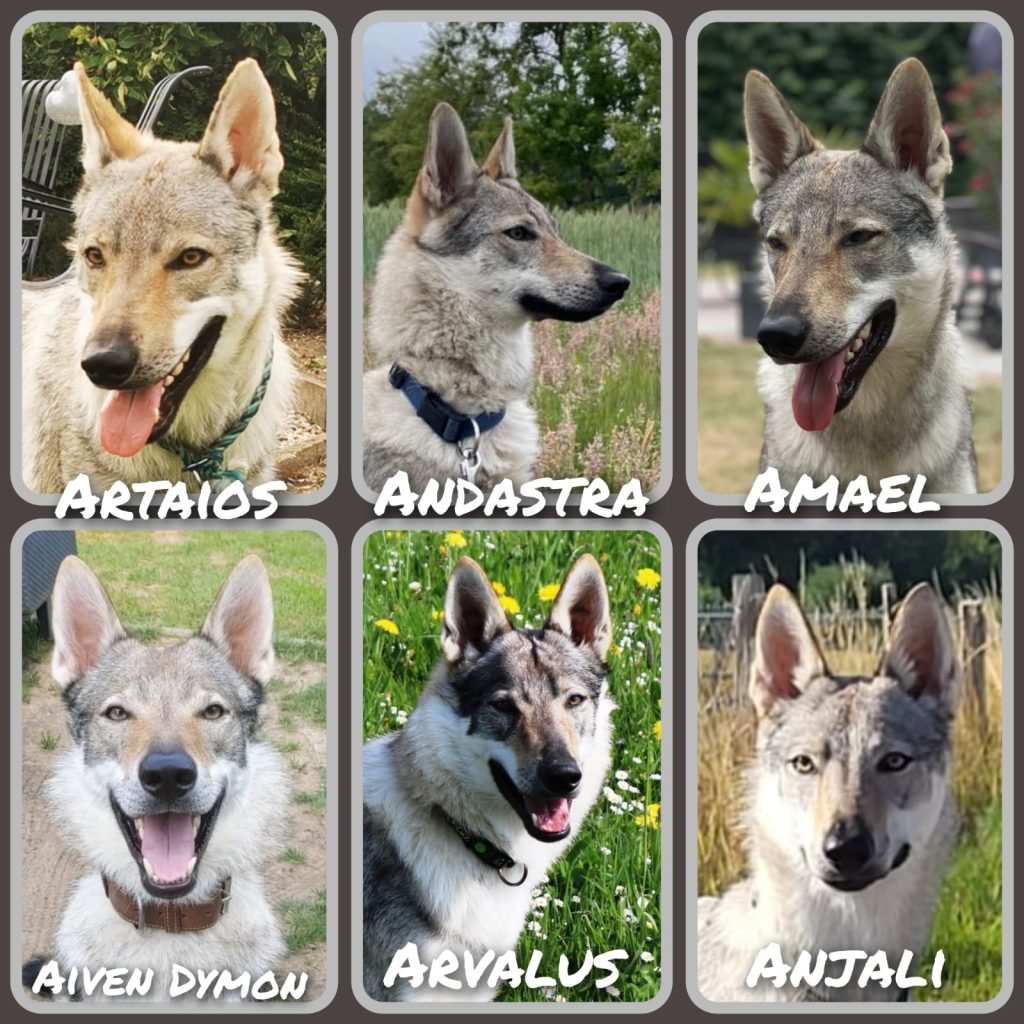 ---
Here you can see Artaios' pedigree with links to pictures and information about her ancestors. The pedigree gives a lot of information of the dog about line breeding, health results, conformation and often also about character traits, which can be derived by looking at and evaluating the ancestors.
Pedigree Artaios Malá Bosorka
The above pedigree contains links leading to wolfdog.org. This is in accordance with copyright law.
---